image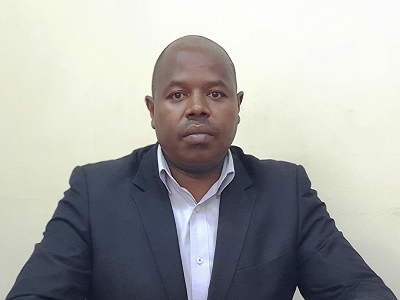 Name
Paul N. Kariuki : Director,ICT July 2019 –To date
Visionary Leader with Strong Management Skills – Broad experience in technology assessment and deployment, budgeting, contract negotiation, business planning, implementation, project and change management. Able to effectively communicate with managers at all levels and successfully incorporate information technology into business processes and systems.
Training and Expertise - Information and Communication Technology professional with a Master's degree in Applied Computer Science, a bachelor's degree in Computer Science from the University of Nairobi School of Computing and Informatics. Paul Kariuki has more than seventeen years' (17) experience in overseeing IT operations, analyzing and designing information systems to aid on-time delivery of business solutions. With excellent skill in project Management, information system analysis, application integration/support/development, project management, and cost containment with a good track record of successful usage of new products and technologies to solve complex business problems and improve service delivery.
Previous Positions held
Deputy Director (2012 – 2019) - In charge of Management information system, with the following responsibilities:
Carrying out strategic information systems planning in line with the University Corporate Planning.

Responsible for MIS team recruitment, appraisals, supervision, coaching and motivation, to enable effective delivery of services and projects to the whole University.

Oversees and offer Leadership in the planning, development, implementation, operation and maintenance of University Information Systems.

Provision of technical guidance in procurement of necessary hardware, software, services and facilities.

Development, implementation and enforcement of information systems policies, standards and quality assurance.

Liaises with the wider University Management in the realization of the University strategic plans for Information Systems.

Ensure effective and efficient running of University Information Systems in liaison with the other Deputy Directors.

Provision of  Information Services to user departments in accordance with Service Level Agreements

Monitoring and evaluation of information services, Management Information Systems projects and personnel in the Management Information Services section.

Development, implementation and enforcement necessary data and systems security measures to safe guard data held in the University information systems.

Monitor progress and recommends corrective action in the execution of the activities of the work plans for all the officers in the MIS section and giving exception reports/recommendations to the Director for action on each individual work plan

Assist in the enforcement of punctuality as well as smooth and efficient execution of duty at the work place for section staff

Ensure compliance and actualization of the Service Charter requirements within the MIS section 

Manage and lead the University's system of website development team, providing students and staff integrated web systems that underpin core University business activity. Responsible for delivery of its associated projects and development and support of the service team. Additionally responsible for managing the University System of Web sites, that deliver corporate web sites and IT tools for learning, teaching and research.
Responsible as Project Manager and as a management information system custodian for the successful completion and delivery of all system, portal and information system projects, providing cost effective development of websites and key applications to a University-wide community.
Leading the planning process for the future development of the Management information system and portal service and to advise, liaise and negotiate across a wide range of stakeholders both within MIS and University management. To develop policy in accordance with legislation, Knowledge Management Strategy and continuous improvement of service delivery.
Project Leader (2009 – 2012) – MIS Project Manager with the following responsibilities
Project leader in the design, development and implementation of online Hostel management information system

Project leader in the Design, Development implementation of the University Joint admission system which is responsible for the admission of students to all public universities

University of Nairobi, ICT Centre Quality assurance officer responsible for ICT system and project quality

Team leader in the implementation of Q-pulse and Quality system Management system used by the University to manage its quality management system for compliance with the ISO 9001 standard

Project leader responsible for the design, development, realization and implementation of the Performance contract management system.

 ISO 9001 Quality internal auditor charged with the responsibility of ensuring the continuous improvement of the University of Nairobi Quality Management System.
Chief ICT Officer (2004 – 2009)- System Development team leader with the following responsibilities
Team leader for the performance contracting information System Development and implementation.

Team leader for the Student management Information System Development and implementation.

ISO implementation committee member and a trained ISO internal auditor

Information and Communication Technology equipment and services technical evaluation and implementation.
Senior System Analyst (2003 -2004) – Software developer with the following responsibilities
Designing and developing the Space Management Information System using Oracle backend database and PHP Server scripting/ JavaScript and HTML for the frontend.

Designing, developing and administering the University of Nairobi web site using html, CSS, Image editors, JavaScript, PHP, PERL, and PostgreSQL database

Developed an intranet-based system for the Kenya School of Flying using html, JavaScript, PHP scripts and MYSQL database.
System Analyst/Programmer - Webmaster (2000 – 2003)
Duties and responsibilities;
Designing and developing the University Web site, Web server administration, advising the administration on issue relating to web sites.

Designing, developing and maintaining the University Customer care help desk.

Designing, developing and maintains and administer the SWA Hostel management Information System